Published: 10 January 2020 Author: Stefan Talmon
In the early hours of 8 January 2020, Iran launched missile attacks on U.S. military forces in Iraq in retaliation for the U.S. killing of General Qasem Soleimani, commander of the Quds Force of the Islamic Revolutionary Guard Corps (IRGC) of Iran. Iranian forces fired more than a dozen ballistic missiles against two airbases at al-Asad and in Irbil which hosted troops of the United States and other members of the global coalition fighting against the Islamic State in Iraq. No American or coalition soldiers were killed or injured in the attack.
After the attack, the Iranian Government reported to the UN Security Council that
"in exercising our inherent right to self-defence in accordance with Article 51 of the Charter of the United Nations, the armed forces of the Islamic Republic of Iran took and concluded a measured and proportionate military response targeting an American air base in Iraq from which the cowardly armed attack against Martyr Soleimani was launched."
In a first reaction to the missile attacks, German Federal Foreign Minister Heiko Maas issued the following statement:
"We condemn the Iranian missile attack on Iraqi military bases where coalition forces are also stationed. We call on Iran to refrain from any steps that could lead to further escalation.
We have been in contact with all sides for the past few days and are working to help de-escalate the situation. We call on all sides to exercise calm and restraint."
This position was later reiterated by the Federal Government spokesperson who declared that "we strongly condemn these missile attacks on U.S. bases in Iraq."
These statements were purely political. The Federal Government did not pronounce on the legality of the Iranian attack. In particular, it did not address the question of whether Iran had a right of self-defence or whether the missile attacks violated Iraqi sovereignty. Any express statement on the international illegality of the attacks world have run counter to the Federal Government's declared policy of "de-escalation" and "utmost restraint."
Category: Use of force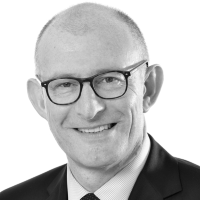 Prof. Dr. Stefan Talmon LL.M. M.A
Stefan Talmon is Professor of Public Law, Public International Law and European Union Law, and Director at the Institute of Public International Law at the University of Bonn. He is also a Supernumerary Fellow of St. Anne's College, Oxford, and practices as a Barrister from Twenty Essex, London. He is the editor of GPIL.