Assistance in the killing of Islamist terrorists by the United States
Published: 11 October 2017 Author: Stefan Talmon
In a speech on the U.S. Strategy in Afghanistan and South Asia on 21 August 2017, President Trump said, inter alia:
"Ultimately, it is up to the people of Afghanistan to take ownership of their future, to govern their society, and to achieve an everlasting peace. We are a partner and a friend, but we will not dictate to the Afghan people how to live, or how to govern their own complex society. We are not nation-building again. We are killing terrorists."
Asked to comment on this statement and whether Germany would assist in killing terrorists or even kill terrorists itself, the spokesperson for the Foreign Ministry stated on 23 August 2017:
"Since 11 September 2001 the Americans consider themselves to be at war with Islamist terrorists according to the rules of international law. For the United States of America, war includes to killing the adversary if this is necessary or if there are no other options. We have seen this in the past and we take note of it.

The German armed forces adhere to their mandate by the German parliament. This mandate requires that we train, support and advise the Afghan security forces. This is also the international mandate and the mandate of NATO and the troop contributing countries which are supporting Afghanistan militarily.

We have never concealed that we are cooperating with the United States of America in the fight against the IS, in the fight against Islamic terrorism or other forms of terrorism.

It will not have escaped your attention that we are working side by side with our partners in the fight against Islamic terrorism. For example, in the fight against IS in Syria and Iraq, there is a large, broad-based international coalition that also takes military action against IS. In doing so, it has also happened that terrorists have been killed."
While not conducting targeted killings of terrorists itself, this statement by the Foreign Office spokesperson leaves open the possibility of Germany assisting the United States in killing Islamic terrorists. Targeted killings may violate international human rights law. Considering that the majority of States, including Germany, does not subscribe to the notion of the "war on terror", any aid or assistance in the commission of targeted killings of Islamist terrorists which do not directly take part in hostilities in the context of an armed conflict may raise the question of Germany having committed an internationally wrongful act.
Category: International terrorism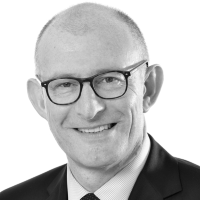 Prof. Dr. Stefan Talmon LL.M. M.A
Stefan Talmon is Professor of Public Law, Public International Law and European Union Law, and Director at the Institute of Public International Law at the University of Bonn. He is also a Supernumerary Fellow of St. Anne's College, Oxford, and practices as a Barrister from 20 Essex Street, London. He is the editor of GPIL.